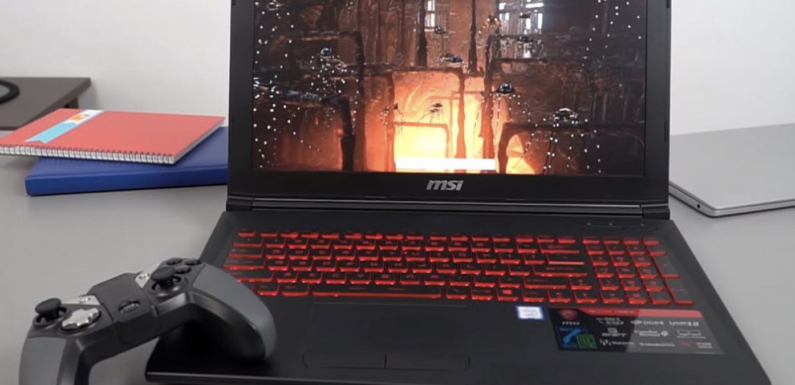 In the world of gaming, everyone is looking for a bit of an edge. In order for a game to be played at the best settings, it needs to be on a quality laptop. Companies build laptops specifically with gaming in mind, but as always, some companies do a better job of that than others. After trying out and comparing some of the top options on the market today, here are five that I feel are a cut above the rest. While a top of the line gaming computer laptop is going to cost over $1000, there are some budget options that work well too.
Dell G7 15 Gaming
Price:
CPU: Intel Core i7-8750H
GPU: GeForce GTX 1060 Max-Q 6GB
RAM: 16GB DDR4-2666Hz
Display: 15.6" IPS anti-glare with 60Hz refresh (1920×1080)
Storage: 128GB SSD + 1TB 5400RPM HDD
Battery: 56Wh 4-cell
Inputs: 3x USB 3.1, 1x Thunderbolt 3, 1x HDMI 2.0, Ethernet, SD MicroMedia card reader
OS: Windows 10 Home 64-Bit
Weight: 6.31 lbs
Dimensions: 15.32" x 10.82" x 0.98"
What I Like
Dell has been a leader for gaming laptops for quite some time, and they seem to be very proud of their G7 series. It is designed for gamers who are on a bit of a budget, but don't want to really sacrifice anything. It certainly is a powerful laptop, and I love the fact that it has so much storage and DDR4 even on the most basic model.
Everything Dell promises on their website is true when it comes to the Dell G7 15. The GPU is solid, but of course shoppers can get a better option for a price. The system will be able to handle most of the top games out right now, although some of the most demanding games might need slight settings tweaks. I think the GTX 1060 Max-Q GPU is one of the best bangs for your buck.
The sound on the Dell G7 15 is pretty great too. I am usually plugged in with headphones, but that is just because I'm in a house with other people most of the time. When alone, the built-in speakers are amazing. 
What I Didn't Like
The Dell G7 15 gaming laptop was a bit too noisy for my liking, which hurt the great sound coming from the speakers mentioned above. The fans weren't running full blast all the time, but it was still noticeable for sure.
Weight makes this a gaming laptop that is probably best suited for a gaming computer that spends a lot of time on the desktop. There is always that option of taking it on the road, but just realize that you probably will not be wanting to haul this thing around everywhere.
Finally, I was hoping for maybe a little bit better of a battery. It is just a 56 watt-hours battery, so I'm not sure how it will hold up after a lot of use. It's a small complaint though, especially since I probably won't be gaming truly on the go with this for hours and hours.
Acer Nitro 5 Gaming Laptop
Price:
CPU: Intel Core i5-87300HQ Processor up to 2.5 GHz
GPU: Nvidia GeForce GTX 1050 (4GB)
RAM: 8GB
Display: 15.6" (1920×1080) widescreen IPS
Storage: 256 GB SSHD
Battery: up to 8.5 hours
Inputs: 2x USB 3.1, 1x Thunderbolt 3, 1x HDMI 2.0, Ethernet, SD MicroMedia card reader
OS: Windows 10 Home 64-Bit
Weight: 5.51 lbs
Dimensions: 15.3" x 10.5" x 1.1"
What I Like
The look and feel of the Acer Nitro 5 Gaming Laptop just seems premium. In fact, out of all the ones I'm reviewing here, this might be the one most likely to be labeled as a laptop that is definitely well over $1000. It has great specs, save for the somewhat small 256 GB solid state hard drive. If you are a heavy gamer who likes to keep a ton of games on your hard drive at all times, there might need to be other plans.
All the latest games work well, without any issues. The screen is very sharp, and the frame rate stayed consistent throughout my entire session. My eyes never felt fatigued, meaning that I probably won't need to use an external monitor with this gaming laptop during marathon sessions.
Battery life on the Asus Nitro 5 Spin is pretty great. I was routinely getting about 6-7 hours of normal use out of a charge. Compared to a lot of other gaming laptops, it is hard to beat that.
What I Didn't Like
Above, I talked about the relatively small SSHD. A person can upgrade itself, but honestly, I'd much rather spend the extra money and just have it come already upgraded. I don't want to be constantly running the fear of space not being there when I try out a new game.
Adding an external hard drive is supposed to be easy, especially with the way this laptop is set up. It just never seemed to run smoothly for me. Couple that with having to carry an extra hard drive around at all times, and I scrapped that idea.
While it looks like a nice, premium laptop brand new, once it had some age on it there seemed to be the need for more minor fixes than competitors. Fortunately, they are smaller things like hinges, the laptop lid and more, but still something to consider if you are rough on laptops.
Finally, cooling the laptop seems to cause a pretty noisy machine. Just about all gaming laptops are loud when playing on high settings, but I don't think cooling is the best on the Acer Nitro 5. It was louder than average.
Asus TUF Gaming FX504
Price:
CPU: Intel Core i5-8300H CPU @ 2.3 GHz
GPU: Nvidia GeForce GTX 1050 (2GB)
RAM: 8GB
Display: 15.6" (1920×1080)
Storage: 1 TB SSHD
Battery: 
Inputs: 3x USB 3.1, 1x Thunderbolt 3, 1x HDMI 2.0, Ethernet, SD MicroMedia card reader
OS: Windows 10 Home 64-Bit
Weight: 5.14 lbs
Dimensions: 15.1" x 10.3" x 1"
What I Like
There is no doubt that Asus is aiming to take over the budget gaming laptop market, and the Asus TUF Gaming FX504 is a perfect example. A laptop with these specifications is not usually well under $1000. It will be able to handle just about every title out there on low or medium settings, which is to be expected with a gaming laptop at this price.
The SSHD and 8GB of RAM makes the Asus TUF Gaming FX504 pretty snappy while multitasking. This is great for people like me who might be gaming but quickly need to jump back to other things.
This laptop can certainly handle a lot, and it stays cool and quiet under even a lot of pressure. I was surprised how little the fans kicked on, and it never felt really hot in my lap. 
Finally, I prefer a gaming laptop that has the ability to be upgraded easily. Asus in general does a god job of that, and the Asus TUF Gaming FX504 can last a longer amount of time because up the upgrade features.
What I Didn't Like
With a budget gaming laptop like this, there are sacrifices that must be made. For the most part, the Asus TUF Gaming FX504 does everything above average, but nothing amazing. The processor, graphics, hard drive and display are all solid, but not amazing. If you want even just one truly great feature, a more expensive model might be best.
I really wish the display was better, but Asus could only do so much with this laptop. The 15.6" screen with 1080p might sound fine on paper, but the screen just seemed dull. Even after messing with the settings, the screen was very dim.
The overall look of the laptop isn't the best. It actually looks pretty cheap to me from the back. It is just a big piece of black plastic with a weird line pattern. Doesn't effect performance in any way, but it isn't winning a beauty contest.
MSI GV62 8RD-200 Gaming Laptop
Price: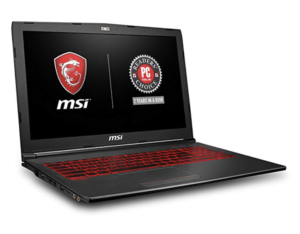 CPU: Intel Core i5-8300H CPU 2.3 GHz-4.0 GHz
GPU: Nvidia GeForce GTX 1050 (4GB)
RAM: 16GB
Display: 15.6" (1920×1080)
Storage: 1 TB HDD
Battery: 
Inputs: 3x USB 3.1, 1x Thunderbolt 3, 1x HDMI 2.0, Ethernet, SD MicroMedia card reader
OS: Windows 10 Home 64-Bit
Weight: 4.8 lbs
Dimensions: 15.07" x 10.23" x 1.16"
What I Like
Out of the box, there is really no bloatware whatsoever with the laptop. That's huge for me, since removing all that junk is usually such a pain. After turning it on, the laptop works practically right away without issues. A true plug in and play experience.
This laptop is really something that can tackle anything. It is light enough and comfortable enough to put in a full day of work. It is powerful enough to use as a gaming laptop. It is perhaps the best blend out of these five for work and play.
There is a convenient overdrive hardware button for people to utilize to get rid of hot air. Fortunately, this laptop actually doesn't run that hot compared to the others in this review. I was able to comfortably have the laptop on my lap without fearing that I was going to burn myself.
What I Didn't Like
A standard hard drive seems really old at this stage in the game. Why not a solid state hard drive on this laptop? Despite that, the Optane does close the gap a bit and speed up performance. The Optane on the computer speeds a lot of things up. Booting up takes about three seconds. Restarting the computer takes about five seconds. That is an insanely small amount of time. So it's only a slight negative at the end of the day.
The speakers are located in a weird position on the MSI GV62. Instead of located near the top corners like a lot of laptops nowadays, they are rear mounted. That's right, the sound is actually directed away from the person using the laptop. I don't see myself using the sound that much on this laptop without headphones or an external speaker connected, that's for sure.
Finally, I noticed a drop in performance while running the laptop on battery. This is a common thing for most laptops, but this one in particular really changed when plugged in compared to not plugged in. For the tough stuff, try to stay plugged in.
HP Onyx Blizzard 15.6" Laptop
Price: $804.99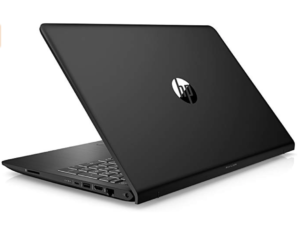 CPU: Intel Core i7-7700HQ 7th-gen processor (2.8 GHz – 3.8 GHz Turboboost
GPU: Nvidia GeForce GTX 1050 Ti 4 GB
RAM: 12GB
Display: 15.6" (1920×1080)
Storage: 1 TB HDD
Battery: 
Inputs: 3x USB 3.1, 1x Thunderbolt 3, 1x HDMI 2.0, Ethernet, SD MicroMedia card reader
OS: Windows 10 Home 64-Bit
Weight: 4.87 lbs
Dimensions: 14.88" x 9.93" x 0.95"
What I Like
This laptop is one of the lightest, and definitely the thinnest out of the ones covered in this article. It just feels different too. Without even checking the specs, using the HP Onyx Blizzard will feel lighter.
Going with the overall design, I like the feel of the laptop in general. The keys are responsive and the backlit option is great during night sessions. The trackpad works very well too. Not only does everything work well, but there is a certain level of comfort when using this laptop for a long period of time.
As is, this laptop is a pretty solid option to consider. However, upgrades are easy to implement as well. Some people are not going to be a fan of the hard drive, for example, but they can upgrade to a SSD easily. You can basically customize away to get the perfect, exact fit. Most of the time, that can still be done under $1000 total.
What I Didn't Like
The laptop heated up pretty quickly, making it uncomfortable to use on the go when it was sitting on my lap. I can understand a lot of heat from a laptop when I'm gaming, but just browsing the internet made it heat up as well.
Speakers on the HP Onyx Blizzard are average at best. I don't expect a ton out of laptop speakers, but these were definitely below average. This is another laptop that really won't be fully enjoyed unless you pair it with some headphones. The sound quality is pretty poor.
While I do love a thinner laptop like this, it is not all a positive. Ventilation is pretty poor, which contributes to all that heat I talked about, and some loud noises from fans. If you are using this for gaming a lot, a cooling platform should probably be purchased. 
Final Thoughts
Gaming laptops are always evolving, but these are the five best for those budget shoppers wanting to game. Going any lower is probably going to make you take a huge hit in game performance. If none of these options are powerful enough for you, the only option is to look up towards the $1000-$2000 range or maybe even beyond. 
Gaming on a laptop is always going to be a bit more expensive than console gaming, but most people who play on PC like all the differences. Once you get that first taste of gaming on a solid laptop, it is hard to turn back. Out of the five, I personally liked the MSI GV62 8RD-200 gaming laptop. It really just seemed like the best fit for me and what I needed specifically. All five are great options though, so it comes down to personal preference in the end.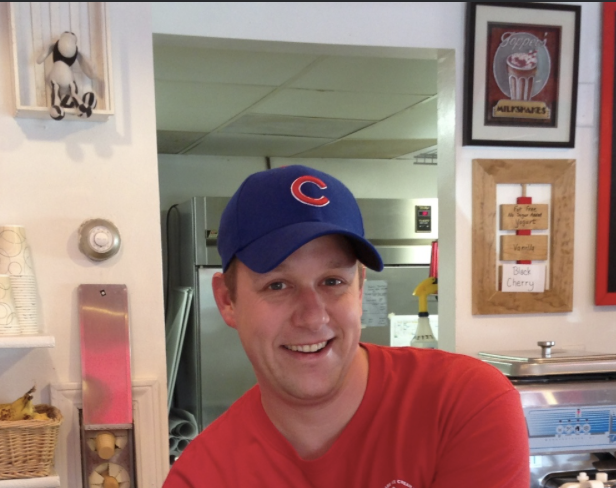 Born and raised in Chicago. Former high school teacher who became sick of getting summers off so I took on a 12-month a year job.