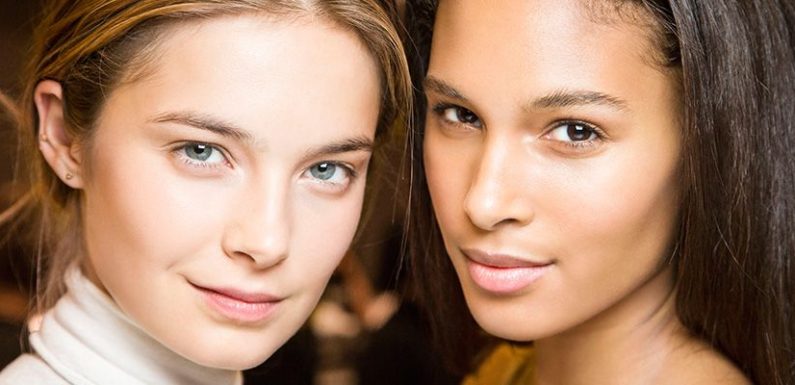 Winter is here but that doesn't mean your skin has to be dry and flaky until April, especially if you have sensitive skin prone to irritations. On the contrary, this January brings amazing news for everyone who loves quality skincare products! Sunday Riley A+ High-Dose Retinoid Serum and C.E.O. Glow Vitamin C + Turmeric Face Oil have found a special place in this month's Allure Beauty Box, as well as in the hearts of those who need something powerful that will bring back the healthy glow to their skin. Let's see how these products work and what makes them so fabulous!
Ace your face with the Sunday Riley A+ High-Dose Retinoid Serum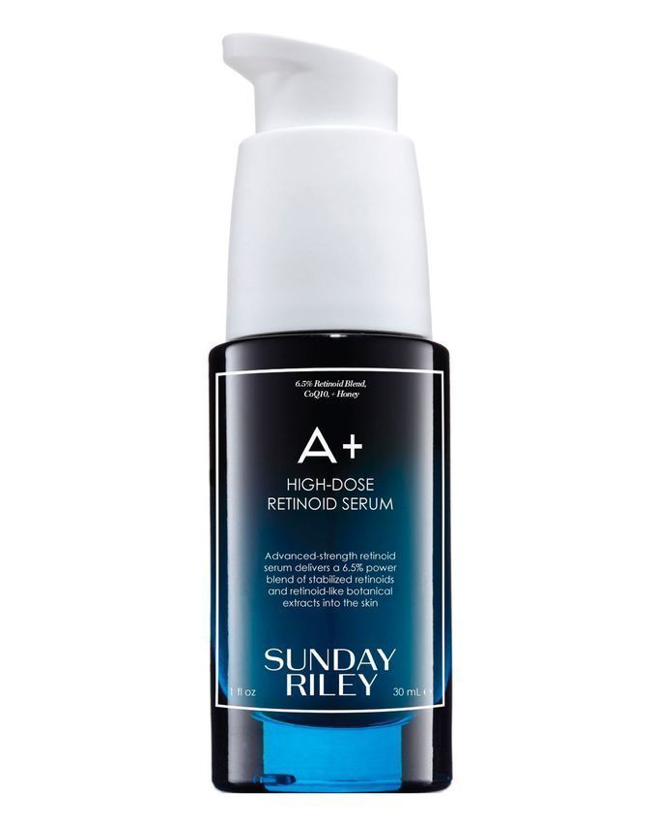 Launched earlier this month, Sunday Riley's A+ High-Dose Retinoid Serum isn't Sunday Riley's first product based on retinol. In case you haven't followed the brand, Luna Sleeping Night Oil has been a popular solution for fine lines, wrinkles, dryness and pores for years. Although the night oil has a solid fan base, it seems like retinol-based products never cease to grab people's attention.
The new A+ High-Dose Retinoid Serum is an advanced-strength retinoid serum, made with a 6.5 percent retinoid blend. This creamy, yellow-tinted serum smooths fine lines and uneven texture, like all retinols, but this unique product is balanced with soothing ingredients like Hawaiian white honey, cactus extract and ginger.
While fine lines are inevitable as we get older, there are ways we can slow down the aging process by adding retinoids to our skincare routine. Why retinol? This ingredient seems to be the answer whenever skin issues such as acne, fine lines, dullness, brown spots, dark circles, and enlarged pores are the question. So, what is retinol? Retinol is pure vitamin A. Skincare products with retinol contain retinoic acid, the active form of vitamin A. This ingredient immediately ties with receptors in our skin cells and makes them behave as though they were younger and healthier and brings improvements we all want, such as clear and glowing skin.
Retinoid Sandwich Technique
Sunday Riley A+ High-Dose Retinoid Serum is a lightweight retinol product for smoothing lines and brightening complexions, which is great for anyone worried about dryness and irritation, common side effects for more potent retinols. Still, though, it may take your skin a little while to get used to the drug. One tip is to apply it for two days and then take two days off. This will allow your skin plenty of time to get used to it.
Another dermatologist recommended technique, especially if you have sensitive skin, is the sandwich technique. Before using the retinol, apply a layer of moisturizer to the skin, top it with the A+ serum, and then sealing it with another layer of moisturizer.
Even with the added layer of hydration, the sandwich technique is effective and doesn't weaken the retinol. "Studies have shown that this base layer of moisturizer does not dilute or reduce the efficacy of the retinoid, but instead helps with tolerability," said Shari Marchbein, a New York City-based dermatologist.
How A+ High-Dose Retinoid Serum Works
Speaking of clear and glowing skin, Sunday Riley A+ High-Dose Retinoid Serum is perfect for anyone who swears by retinoids and is looking for ways to take their skin care to the next level. This serum is powered by a 6.5 percent blend of retinoid and retinoid-like botanical extracts. It is botanically balanced by Hawaiian white honey, Bisabolol, ginger, and prickly pear cactus.
The active ingredients in A+ High-Dose Retinoid Serum fight the signs of aging, improve skin clarity, and reduce the appearance of imperfections as well as side effects such as flaking and redness. These side effects are typically associated with high-strength retinol and retinoid products, which means that it keeps all the benefits of traditional retinoids and retinols without the prescription or damage to skin.
Another active ingredient, Retinol Ester, helps fight the appearance of wrinkles and fine lines without any of the downsides of retinol. If you have UV-exposed skin, or signs of agency, then the active ingredient, CoQ10, will help to minimize the appearance of these issues. This topical antioxidant brings a healthier-looking and balanced complexion to your skin. And finally, Hawaiian white honey, a pro-skin substance rich in phytonutrients, reduces the appearance of surface redness and skin sensitivity while providing hydration.
Sunday Riley C.E.O. Glow Vitamin C + Turmeric Face Oil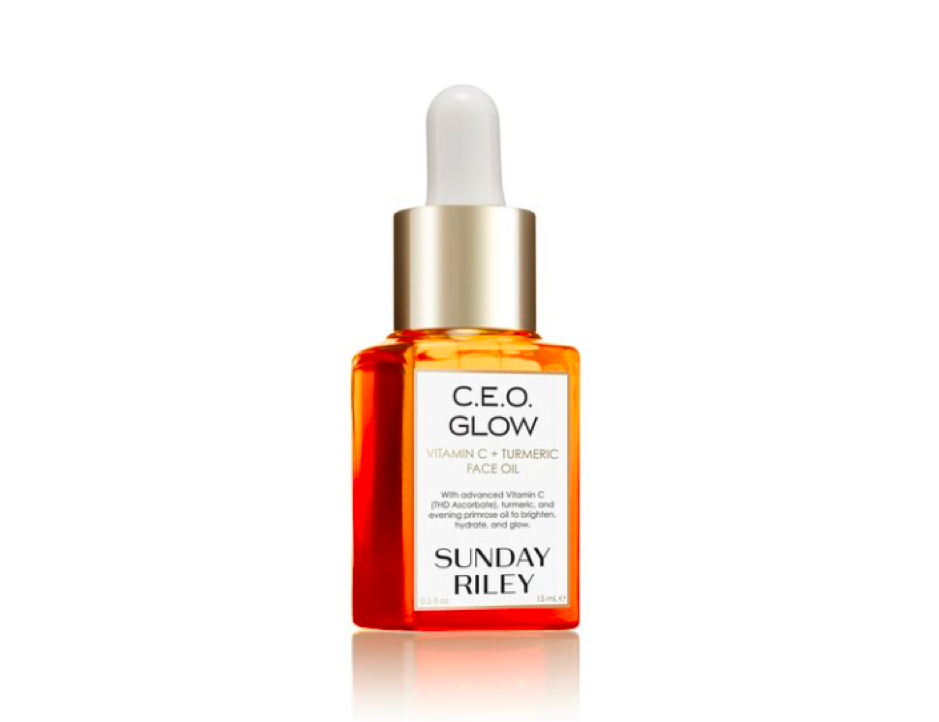 Sunday Riley C.E.O. Glow Vitamin C + Turmeric Face Oil brightens and firms your skin with its antioxidant powers, helping to combat the affects that winter has on your skin. Topical vitamin C is essential for evening out skin tone and protecting skin from damage, especially UVA and UVB rays. This is because vitamin C is an antioxidant, which naturally helps strengthen the skin. Of course, topical vitamin C shouldn't be used as an alternative to sunscreen. Instead, use it in combination with regular sunscreen application, and it will work wonders for your skin!
Quality vitamin C serums such as Sunday Riley C.E.O. Glow can help you achieve a better complexion, even when you suffer from redness or other discoloration. While some vitamin C serums don't absorb completely into the skin or remain tacky to the touch, Sunday Riley's C.E.O. Glow Oil goes on and feels smooth.
Many fans of Sunday Riley have already fallen in love with C.E.O. C + E Antioxidant Protect + Repair Moisturizer that infuses five percent oxygen-stable THD ascorbate into the skin. This ingredient is considered the gold standard of vitamin C and penetrates best into the skin. The moisturizer is loved by so many because it fights the signs of aging while being kind to sensitive skin. According to many happy users, C.E.O. leaves skin hydrated without feeling greasy and helps skin beat flakiness during the winter months.
Just like the C.E.O. moisturizer, Sunday Riley C.E.O. Glow Vitamin C + Turmeric Face Oil also has vitamin C as its powerhouse ingredient, but it also has turmeric—which helps you obtain an added glow—and vitamin E that helps soothe skin.
C.E.O. Glow Vitamin C + Turmeric Face Oil works best when applied after washing the face and before moisturizing. The face oil makes hyperpigmentation less noticeable and the texture of skin softer as well as more elastic to the touch.
The smell of C.E.O. Glow Vitamin C + Turmeric Face Oil is refreshing, with a light orange tint that goes away as it absorbs into skin. Also, it can be used with moisturizers and retinol (especially Sunday Riley C.E.O. C + E Antioxidant Protect + Repair Moisturizer), as long as you give your skin time to absorb it. Putting face oil on last keeps skin hydrated and prevents the retinol from drying the skin out.
Finally, C.E.O. Glow Vitamin C is an amazing beauty product to use during the winter months as it helps to make dull skin become dewy. Besides vitamin C, the fast-absorbing face oil contains evening primrose as an active ingredient that hydrates the skin without clogging the pores or making the skin look shiny.
How C.E.O. Glow Vitamin C + Turmeric Face Oil Works
Retinol and vitamin C, one of the key ingredients, makes for a powerful combo. Together, they help to fight the signs of aging caused by stress and pollution while also helps preventing and soothing fine lines and wrinkles, as well as the appearance of dark spots and redness.
We take vitamins during the winter so we can stay healthy and avoid colds and infections. Our skin also needs an additional vitamin boost to survive these cold and dry months. Luckily, now you can also recharge your skin's glow with the radiance-giving C.E.O. Glow Vitamin C + Turmeric Face Oil! It takes only 2-3 drops a day of this face oil to balance and soothe the skin with a healthy glow, and now both products are available in the Allure Beauty Box.
Be sure to stay up to date with the lastest releases from Sunday Riley on Facebook @sundayrileyskincare, Twitter, and Instagram @SundayRiley!