Last year, Apple changed a lot on the iPhone with the release of the Apple iPhone X. While it received great reviews shortly after release, there were some lingering issues and complaints from consumers, including myself. That's why I was eager to get my hands on the Apple iPhone XS, to see if this near perfect phone could get closer to perfection. After having it for a few weeks now, does it live up to expectations?
One thing to note: this is a review of the iPhone XS. It's the option I went with. The iPhone XS Max though is nearly identically, other than a 6.1" screen (compared to 5.8" on the iPhone X), and a better battery. If those features are important to you, the bigger option might be the way to go.
Initial Thoughts
Like I do with every new phone, I devote a couple hours to really explore and see all the new features on the device that likely won't be leaving my side throughout the day. It might sound a bit cliche to say, but everything just seems snappier with the iPhone XS. Not that the iPhone X was slow by any means, but the technology underneath the hood backs up my claim.
With me being a bit of a hoarder with 4K videos, I opted for the maxed out storage option, which goes up to 512 GB now. Previously, 256 GB was the most a person could purchase. Maybe I'll never, ever come that close to filling this phone, but I'm a sucker for a lot of storage. Personal media can take up a lot of storage, so just be aware of that before opting for the smallest one on the market.
The look and feel of this phone isn't a shock at all to me, since I read enough previews to know that the iPhone XS was going to be pretty similar to the iPhone X. In fact, technically speaking, the new phone is just a tiny bit heavier than the previous version, but it's near impossible to tell when in hand.
My previous iPhone X was only a year old, so it was not like it was slowing down like some phones do after years of wear and tear. I think that makes a review a bit more fair, because if my phone was old, slow and operating with a lousy battery life, basically any upgrade would be an improvement. With that said, the iPhone XS was just faster from the very beginning. Even after opening up way too many apps and not closing them, things did not slow down. 
I'll admit that if you are coming from the iPhone X, nothing will initially blow you away with the new phone. It is a nice surprise though as you use it more and more that you see all the subtle improvements to the device. The best way to describe the iPhone XS is that it seems to be a more refined and finished iPhone instead of being an innovator like the iPhone X.
Minor Processor Upgrade Makes A Difference
Apple's A12 Bionic processor is the first mobile processor built using a 7 nanometer process. It houses a total of 6.9 billion transistors, which basically means that it will deliver a stronger performance for users compared to last year's A11 Bionic processor. 
Last year, Apple introduced a pretty interesting Neural Engine for machine learning tasks, and they have improved that by going from two cores to eight for the iPhone XS. A total of five trillion operations per second can now be handled.
So, what does all this mean to the vast majority of us who do not understand all the technical jargon? Apple has built the most powerful smartphone on the market today. It is able to handle all types of tasks thrown at it. These upgrades are necessary as augmented reality becomes more and more popular. It also comes in handy when you have 35 apps running at the same time and forget to close out of them. Instead of the phone lagging, it handles it all like a champ.
With iOS 12 ready to go from the start, the iPhone XS just performs amazingly well out of the box. This operating system is available for download with other iPhones as well, but of course it is optimized for the newest release.
Smart HDR Makes Picture Taking Better
At first glance, the front and rear camera on the Apple iPhone XS does not seem improved at all. The megapixels, zoom and lens aperture are all identical. The difference isn't noticed until messing around with the camera and trying out the smart HDR. It has me taking pictures more than ever, because it's just easier now (and better).
Smart HDR is made possible by using the new image processor as well as the A12 Bionic Chip. To put it simply, photos look better in low light and other usually difficult settings. There were times in the past with iPhones that I'd take what I thought were some pretty nice photos, but they ended up not looking sharp enough. 
The best way to put this is that under extreme situations, the Smart HDR works better than ever. I took pictures at night and the contrast was significantly better than pictures in similar settings with the iPhone X. The same goes for shots at the beach under direct sunlight.
Apple has admitted that the larger sensor allows more light in, and that helps with faster focusing. It just makes photography easier, especially when trying to capture those spur of the moment shots. My Instagram Story game has already improved dramatically.
Portrait Mode Gets An Upgrade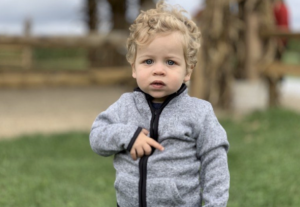 Another thing I love about taking photos right now is that the iPhone XS and iPhone XS Max allows me to adjust background focus after the fact. This was something that I was able to do already using a third party app, but it is always a much better situation when you don't have to rely on something like that.
Blur adjustment comes in handy more times than you might think. Pictures of people, or animals, are just easier to capture now. I definitely fit in the "loves photography, not a photography expert" category, which means I can use all the help I can get. Having this Depth Control feature is just another way for my life to be easier when taking photos of faces.
With photography, don't get caught up with the lack of changes to the main specifications of the camera in the iPhone XS. It is easier to take photos and make photos look better with the newest version of the iPhone. The best thing is, you do not have to leave the main application nearly as much to use some of those best features to make a photo really pop.
Face ID Is Noticeably Better
Love it or hate it, Apple is set on making Face ID a thing. Personally, I like the fact that the iPhone doesn't waste a lot of space by including a button at the bottom, but others were not as quick to embrace the change. The reasoning? Well, Face ID was sometimes hard to get to work.
Face ID Works great in theory, but I was not always happy with the way it would sometimes not recognize me during daily activities. Wearing sunglasses or having something near my face would have me looking a bit weird adjusting my phone like I was taking a selfie. Apple has not been able to come with a feature that can just look through objects in front of your face, but at times it certainly acts like that with the iPhone XS.
Sometimes I wear eyeglasses. Sometimes I wear sunglasses. Sometimes my hair style is different. I really didn't have an issue with any of these things with the iPhone XS, which is great. There were times I had to tilt a little with my sunglasses on, but Face ID is quick enough that it is usually fine being able to read the bottom half of your face.
The lack of button really sells the whole thing for me. The Touch ID worked well for me personally, but I like a bigger screen without having to buy a huge phone. There are always going to be people who are resistant to change with the lack of no home button, but trust me, it ends up being fine. 
Faster Charging, But Battery Life Remains Untouched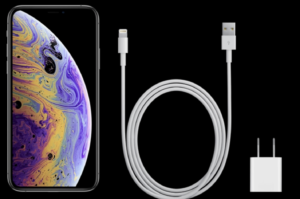 The battery life on the Apple iPhone XS will get most people through one day, which is about standard for all smartphones now. It is one of those things that for now, we have to live with. I was hoping for a little bit of an improvement with battery life with each generation, but it seems the exact same as the iPhone X.
What is a welcomed improvement is the ability to charge the phone a little bit faster than the previous generation. The tighter coil design makes this possible, although the bad news is that in order to take advantage of the faster charging, third party cables or charging devices are needed. There is no fast-charging cable in the box when you purchase the iPhone XS. The USB-C to Lightning cable costs $19, while the Apple 30W charger is $49. That might not seem like a lot of money to spend on a faster charging setup when you realize how often it will be used, but Apple is being a bit cheap not including at the least the USB-C to Lightning cable.
Apple, or any company for that matter, might not have the ability to create a battery that can last a week and not be huge just yet, but the good news is the company does do a great job allowing people to monitor and even troubleshoot what is really taking up all the battery life. It might take some creativity during those heavy usage days, but battery life is an issue for pretty much every smartphone on the market today. 
No Truly New Features?
If there is one thing I'm disappointed about with the Apple iPhone XS, it is that there really isn't a brand new feature to get me, or the masses, excited. Maybe some people will be excited for dual SIM support, but that is not really something that a lot of people are going to get something out of. 
The good news is that the Apple iPhone X was overall a great phone, so maybe focusing on just making subtle improvements to a number of features to make the new iPhone better was the right call. Consumers will likely be happy, but it will be interesting to see if the lack of a flashy new feature will hurt sales. It just seems like the buzz really is not there just yet for the new iPhone, but that is something that people have been complaining about for the last few years. So many people are already satisfied with their current phone that they feel as if they do not need to rush out and upgrade.
Most likely, the company is banking on those who were perhaps a bit resistant to change last year when the redesign first hit. I am a bit spoiled coming from the iPhone X, but jumping from any other option will actually introduce people to a whole list of new features to them. Even as a consumer who is coming from the iPhone X, I do notice the performance improvements, so it is not a worthless upgrade.
Durability/The Case Dilemma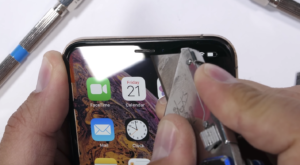 The iPhone XS is said to be the most durable yet, but Apple says that about nearly every new release. To be fair, maybe this one is, but as someone who has cracked and damaged multiple phones in my lifetime, I find it nearly impossible to go without a case or at the very least, some type of screen protector.
The glass on the iPhone XS is supposed to be the durable glass on the market today. They have added precision-machined, surgical-grade stainless steel bands. Apple has even said that this version has an improved level of water and dust resistance. There are drop tests online that show that there is a slight improvement, but all of them also say that this phone is not indestructible. This is something I've come to expect, so no big deal.
Apple has frustrated a few customers already thanks to the iPhone XS being just a little bit different than the iPhone X that it throws off some of the cases that people grew accustomed to. When looking at bout with a naked eye, it makes no sense that they would need different cases. It is certainly a minor inconvenience if someone is shopping for a case so early in the game, but one to note.
On the bottom of the iPhone XS, there are just threes holes on the left of the device instead of six. That is because it is the location of the new antenna band that improves internet connectivity. There is also a slightly taller dual-camera on the back of the iPhone XS. These two things actually make a few cases for the iPhone X obsolete. Especially early on, just make sure things fit before actually making any type of purchase. Packaging that specifically mentions the iPhone XS is the safest way to go at this point in time.
To take a look at some of the top rated Apple iPhone XS cases, click here.
Final Verdict
Overall, I'm very satisfied with the iPhone XS. This is the top option currently available from Apple, and I feel like it's worth the price (compared to alternatives at least). I do wish the battery life was a bit better so I could really utilize some of these new features more often during the day (taking photos drains battery quickly), but it's easier than ever to get some quick charges in throughout the day if need be.
If you are coming from something other than the iPhone X, there is going to be a bit of a learning curve. Face ID alone and not having that button at the bottom of the phone can just feel weird at first. I know, I was at that stage last year. After just a few days, it does become natural. There is, of course, always the option of typing in the passcode if Face ID is not working or it's just the convenient option at the time.
The good news is that this phone will be so much faster than the other Apple products in the past. They are not going back to using buttons any time soon, and honestly, since making the switch, using an iPhone or iPad with a button feels weird to me. I get being resistant to change, but the iPhone XS is the right choice to jump into a new experience and seeing a little of what Apple has planned for the future without buttons on their iPhones.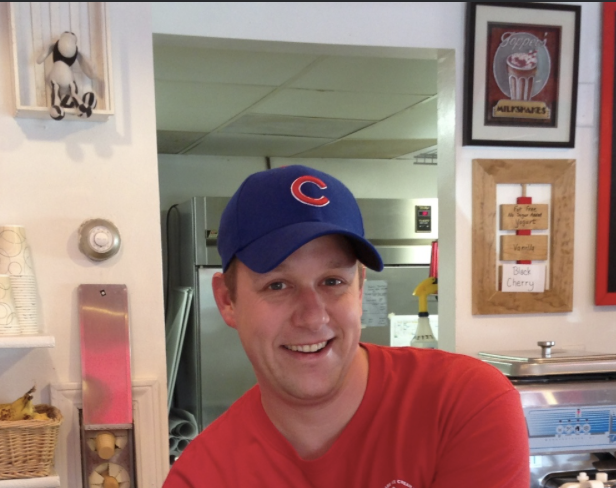 Born and raised in Chicago. Former high school teacher who became sick of getting summers off so I took on a 12-month a year job.